In Power BI, you can display Zebra BI visuals in the received emails when a user subscribes to report pages. Email subscriptions allow you to send automated emails based on your published Power BI reports to your end-users (consumers) on an hourly, daily, weekly, or monthly basis.
This very useful and frequently overlooked feature, available to Microsoft-certified visuals for Power BI offers you the option to deliver fully automated emails to all end-users within your organization. Moreover, you can schedule these emails for every Power BI report published in the Power BI service, select the exact days, the time of day when an email should be sent, write the email subject and an optional message, control the start and end date of each email subscription, etc.
The only current requirements for you to create a subscription are to either:
Have a Power BI Pro license OR
Viewing content in a Premium workspace or app also allows you to subscribe to the content located there, even without a Power BI Pro license.
Your admin could deactivate this, so maybe some of you won't be able to see the options even though you fulfill the requirements. In this case, turn to your Admin or IT expert for support. You don't need edit permissions to the content (dashboard or report) to create a subscription for yourself, but you must have edit permissions to create one for someone else.
Let's get down to business. To set up email subscriptions, first, click on the Subscribe button in Power BI service: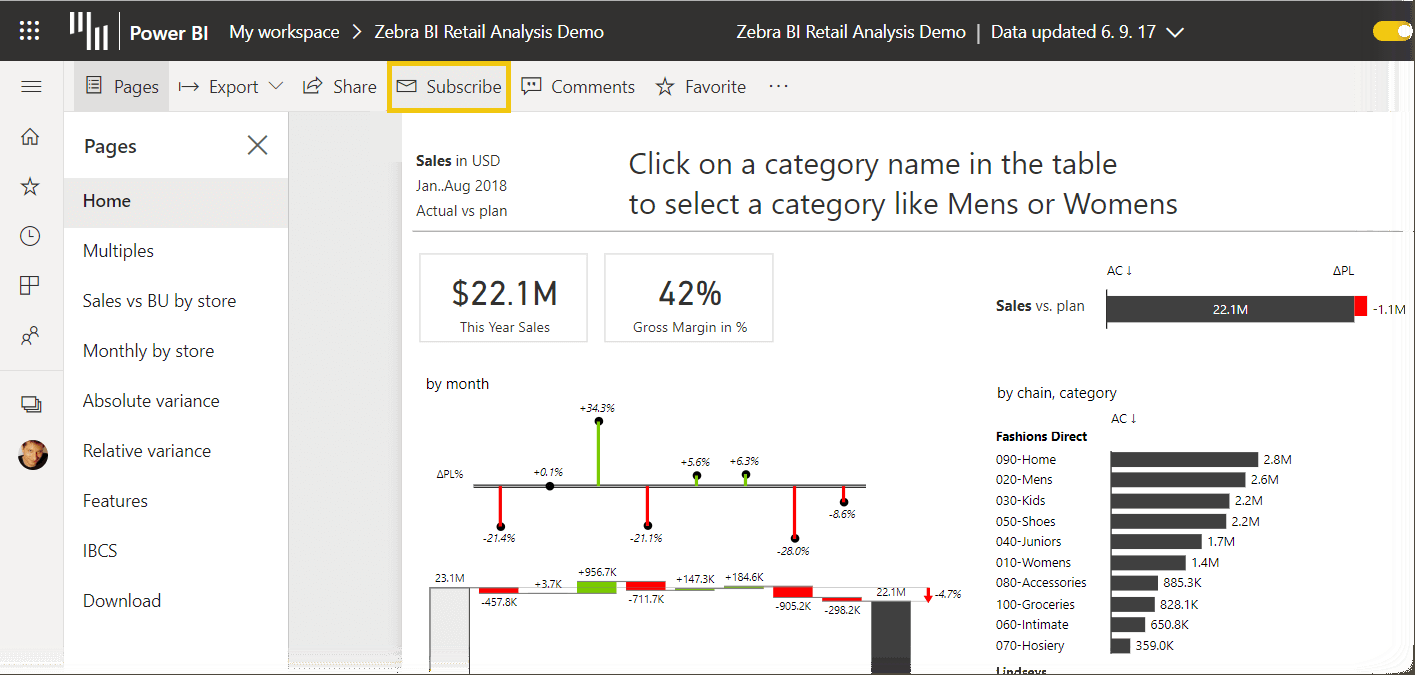 You'll be presented with a form where you set the details of this email subscription on the right side of your window. Don't forget to click the Save and close the button once you finish.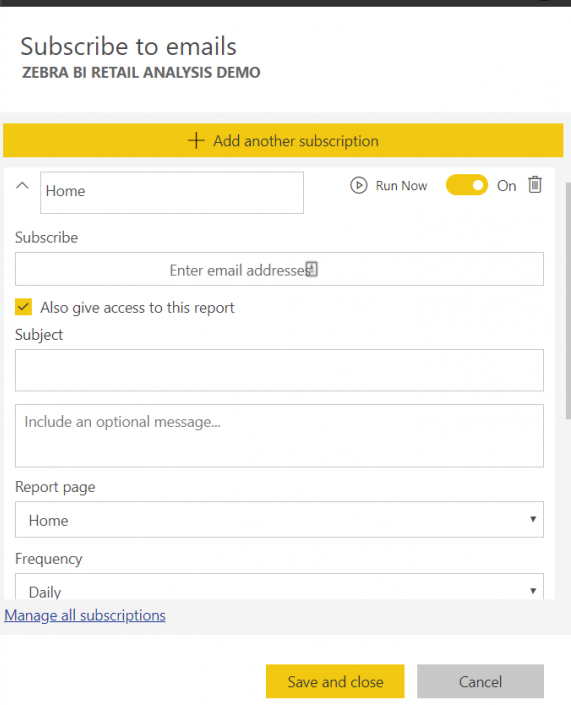 Be careful though. When you subscribe to a report, you're actually subscribing to a report page. To subscribe to more than one page in a report, select Add another subscription and select a different page.
After selecting the subscribers (users who will get these emails) and writing an engaging Subject to your brand new email, make sure you select the most appropriate schedule. For example, on a weekly basis, you can select the exact days when the emails will be sent out, as well as the exact scheduled time of the day (based on a selected time zone).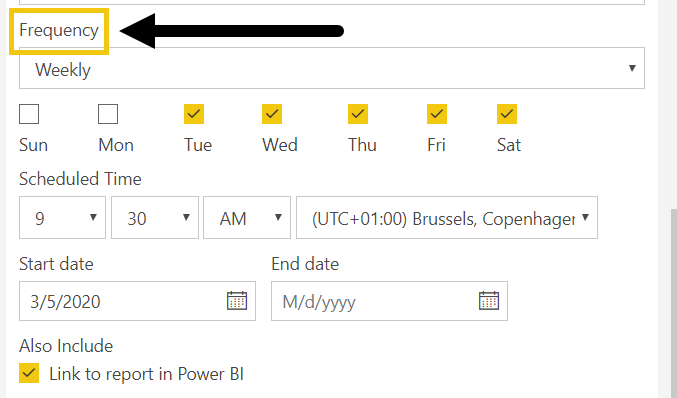 As you can see from the above picture, you can simply set the start date and the end date of each subscription.
You can choose to include a link back to the content in Power BI and give users access to the content you're subscribing to. In case you choose to include a link, it is then best to enable all users to have access to the report.
And that's it. Email subscriptions allow for a quick sharing of your created reports and dashboards among your colleagues and audience. And since Zebra BI visuals have been certified by Microsoft, this feature will also support and display them in the subscription emails. Check out what exactly the certificate means for you.