While Power BI is an excellent tool for creating business reports, there is another option when you want to present these reports in an especially memorable way. Luckily, for the certified visuals, Microsoft enables embedding Power BI report into MS PowerPoint. You can do so in just a few clicks.
1. Log into your Power BI account, select the report you want to export and click Export > PowerPoint.
You will be prompted with multiple choices about your export. Here you can customize values, decide if you want your file to include hidden report tabs and, if you are interested in only one particular page, export only the page you are currently on.
2. A notification should appear about the exporting process.
Once it is done, the PPTX file will begin to download. Open the file after it's finished.

3. Open your newly created PowerPoint document and click on Enable Editing to finalize your presentation.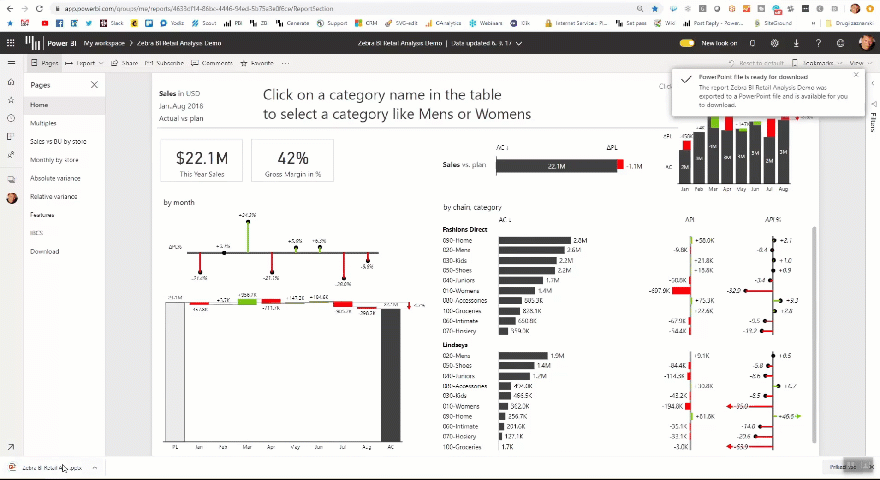 This feature was enabled after Microsoft officially certified Zebra BI custom visuals for Power BI. Find more details about exporting your report pages to MS PowerPoint. 
Watch how to export your reports into PowerPoint in just a few clicks.
How to embed Power BI in updatable PowerPoint slides?
There are, at the moment, some limitations to this feature, for example:
It is only available in the Power BI service (you cannot do it from Power BI Desktop).
Exported PowerPoint slides are static pictures (you cannot refresh them in PowerPoint).
You can only export one Power BI report at the time.
The number of pages is limited (only the first 30 pages will be exported).
Only certified custom visuals are supported.
Python visuals, R visuals and ArcGIS visuals are not supported.
Especially the fact that PowerPoint slides cannot be refreshed and that you cannot create a PowerPoint slide deck from selected report pages from several different reports makes the Export to PowerPoint feature unfit for typical business use cases.
Solution? A powerful MS Office Add-in called Power BI Tiles PRO.
Power BI Tiles PRO allows you to link Power BI report pages and dashboard tiles directly into PowerPoint or Word and then simply refresh them whenever you need:
What makes this tool particularly useful is that you can select any item (a tile or a page) from any Power BI report or dashboard and bring them all together into a single, updatable PowerPoint slide deck:
We wish you the most success at designing the best presentations using Export to PowerPoint function. Check other features exclusive to certified visuals, like exporting your reports to PDF and displaying the visuals in received emails when a subscribing to report pages.